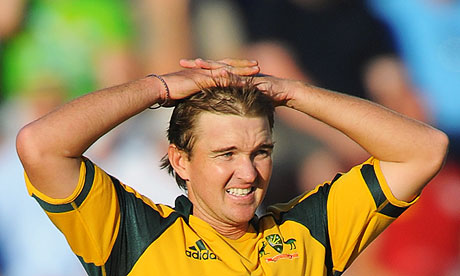 Hauritz can stop worrying, he has done enough for the World Cup Squad.
The Australian squad for the World Cup has been announced and a few unsurprising changes have been made. Most notable missing from the squad is Peter Siddle and Xavier Doherty were not included while John Hastings, the Victoria allrounder, was named along with the injured duo of Ricky Ponting and Michael Hussey.
Hussey and Ponting do have time to recover before the tournament reaches the knockout stages, with the quarter finals beginning on March 23. Australia's opening match of the campaign is against Zimbabwe in Ahmedabad on February 21.
Nathan Hauritz is the sole recognised spinner but Steven Smith and David Hussey will also be relied on to deliver regular overs, Hauritz while being on the outside of the Test team this summer, and watching Doherty play in the 1st ODI, has been in sizzling form in domestic cricket with both bat & ball, playing his way over Doherty. David Hussey's mix of hard-hitting batting and part-time offspin have earned him a trip, despite him playing his first one-day game in more than a year on Sunday.
Tim Paine's inclusion is an obvious choice as a reserve wicket keeper, but also gives Australia an opening option as a batsman which was shown in his knock against England in the Prime Ministers XI match, with Shaun Marsh and David Warner both not being able to return to the side.
While Australia are now mid-table in Tests, they remain the No.1 side in the 50-over game and are aiming for their fourth consecutive World Cup win. Seven players who were part of the unbeaten 2007 success in the West Indies will attempt to achieve more glory.
The 15-man squad is:
Ricky Ponting
Michael Clarke
Doug Bollinger
Brad Haddin
Jon Hastings
Nathan Hauritz
David Hussey
Michael Hussey
Mitchell Johnson
Brett Lee
Tim Paine
Steven Smith
Shaun Tait
Shane Watson
Cameron White